Hello, Trainees! This is a guide to the Rifleman.
1. You are the jack of all trades!
Remember this. The other two classes will beat you when you are on their field. So, when you use Rifleman, use the other class abilities against another class!
Example: Use a Rifleman's perspective of pointman's ROF to defeat enemy snipers, if you have a good scope (ACOG is good). The ROF will occasionally throw off the sniper's shot, leaving you to live.
Another Example: Use the range of the sniper to defeat Pointmen at a distance!
The Rifleman is good in any situation when he has the right gun.
2: Guns.
M4A1:
This is a good gun if you are a sniper person. A scope comes with it, and can be customized for longer ranges for those pesky snipers. Be warned, if you use the scope that comes with when you buy it, there will be terrible recoil.
Tips: This
gun is good ONLY if you customize it for longer range and less recoil.
Do it when you buy it.
AK-47:
This gun is a 3 hit kill. When I used it in Closed Beta, I couldn't add a scope. This is a MAJOR disadvantage because of the recoil, which doesn't let me snipe good from mid range. This is for sprayers and tappers (not modem tapping, silly!).
Remember that
this gun has a poor ROF, so EVERY. BULLET. COUNTS.

Tips: Try to get in a closed space so the enemy can get less maneuverability as you shoot them. Also, this gun is for the cheap, not much customization options but already rivals the M4A1.
M16A2:
This is supposed to be the balanced gun, but nearly no customization adding at all, and even isn't a 3 hit kill (usually). I have now used it, the ROF and good recoil is great, but only for short-mid range.
Tips:
Perfect for taking down mid range.
Anything else this can do the sniper and pointman weapons can do better.
FAMAS:
Rate of fire makes it also a pointman weapon
. With customization, you can make it into another weapon so I hear. The other weapon (FAMAS G2) is supposed to be a better gun. Try it out, but
watch the recoil
.
Tips: Go pointman with it.
G36:
This gun is not as useful as it is in Combat Arms, but still very good. From close range it can 3 hit kill, close-mid range 4 hit kill, long range is 6 to 7 bullets*. It has a better ROF than the AK-47, it's really on par with M4A1. It also has a scope which comes with it, but has less recoil than the scope that first came with M4A1. It's (the scope) accurate enough for the rifleman (at long range I tried to kill one guy, I pointed at his shoulder but it was a headshot).
Tips: This is close enough to a M4A1 mixed with AK-47, because of the ROF and 3 hit kill at close range and 4 at close-mid range. Any farther and it's worse. Don't try it.
*: This is when I used it in the tutorial. The AI may have more or less health than the characters we use in-game.
Future Rifles that may or will be in-game (Will update them with information when possible):
HK 416:
AK-74 M:
AUG-A1:
AN-94:
SG550:
TAR-21:
SAKO RK.95:
L85A2:
M14EBR: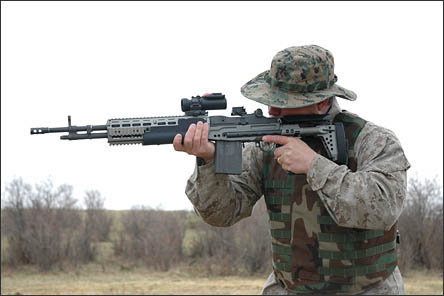 K2 Rail: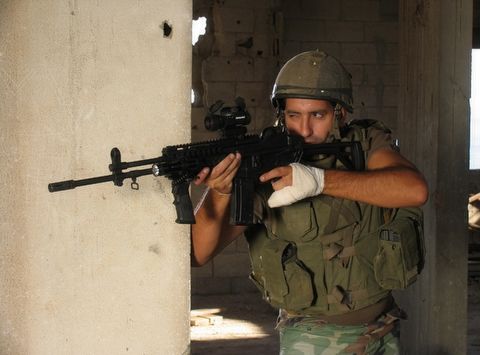 FN-FNC:

RX4-Storm:
The end of my guide.
I hope you find a nice gun and do well, soldier!